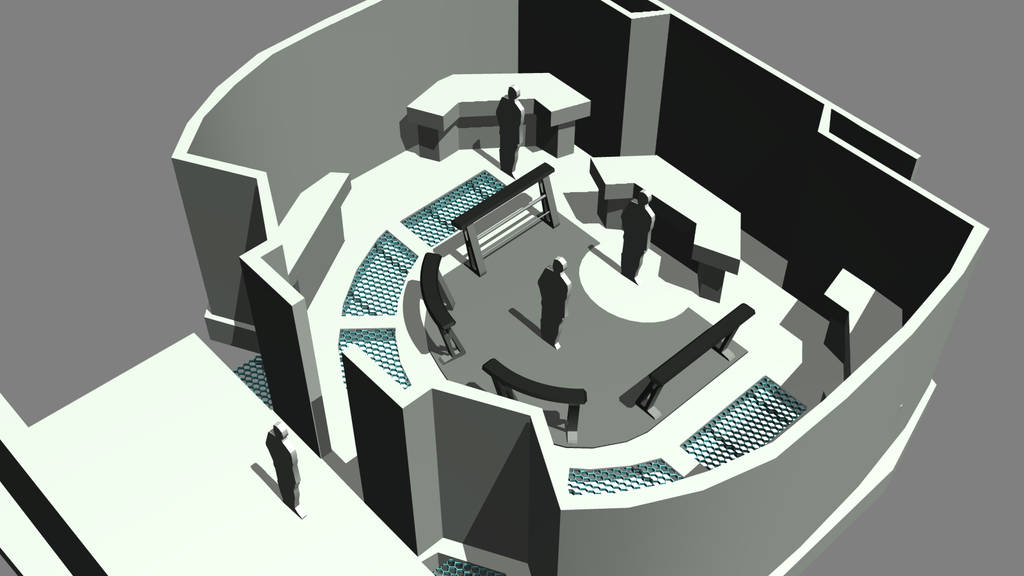 EDIT: Header Image
I don't know how far I'm going to get with this as I am sure this particular muse bug has to do with me binging the hell out of the show right now.

I'm not going specifically for Bablyon 5 itself at the moment, instead I'm focusing on the Omega Class Destroyer. In this case it's the EAS Talos. Taking a cue from the show, the bridge is a re-dress, and in my case it's going to be a major one, of the Babylon 5 CnC. I pulled the layout from the Babylon 5 RPG and based the doorway on the 3ft. rule from Star Trek sets. This has made the set seem a bit... bigger than it was on the show, but I'm 90% positive the RPG isn't completely accurate in size either. I more wanted the layout anyway.
So I took the base CnC layout, filled in the command and control pit with a 'walk over' area for the Captain's chair and dropped a few consoles in. This is EXTREMELY basic right now. I'm probably going to use a few design ideas from the Trek bridges for a Viewscreen, and I think a few stations on the bridge will have chairs, etc. but I'm going to try and keep with the Babylon 5 aesthetic, only pretend I have a much larger budget. :P
If anyone has any idea on scaling sizes I'd be happy to hear them and any ideas as to layout, design choices, etc, I'm happy to hear those as well. This is very uncharted but still special
territory for me.
Right now the bridge is sitting at 43 by 45 ft. The standard Trek bridge is closer to 30 ft in diameter, so shrinking that down is always an option.