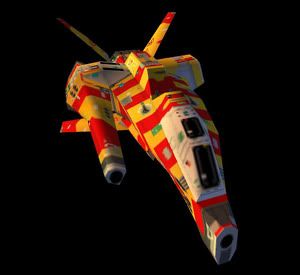 Like many gamers and science fiction fans, I loved Homeworld when it first came out. With designs clearly inspired by two of my favourite SF Illustrators - Peter Elson and Chris Foss, there were a lot of ships which looked 'the business'. And as a modeller (practical + 3D), I always knew I wanted to scratchbuild one, the problem was which one?
I settled on the Taiidan Interceptor. I like the idea that the ship was designed like an medieval night, lopsided with a big whopping weapon on one side, like a jouster's lance. The crazy colour scheme would really stick out nicely too from the drab greys that so many other unimaginative SF subjects seem to stick to.
What I also really liked about the Homeworld ship designs was they had a certain heft and weight to them - they really looked like they could be spaceships, with plenty of room for thrusters, fuel etc. Unlike the dinky little things in, say, Battlestar Galactica, which are designed tiny so the 1:1 props fit on a sound stage for shooting. In a 3D virtual environment, there's no such restriction.
A big shout out to Jon Aaron Kambeitz who I believe designed this. This is my favourite design from the first Homeworld. I had hoped to work on Homeworld 2... sadly it all happened a bit too quickly before I could get organised. However I can still get some consolation from building some of the ships to hold in my hands!
So here's my interpretation so far in styrene, epoxy and polyester putty, with a few bits and pieces from old kits.
While it's far from finished, I thought some of you might enjoy seeing the progress. I'll post updates hopefully on a weekly basis now.
Thanks for looking!
PS: Been around for awhile... but I've never felt I had the time to contribute until now. Great to see such a fantastic community develop. Look for my WIPs in the appropriate 3d forums soon. Almost finished my Taiidan Scout in 3DS Max!