<!––NOFDP (no IndexPhotos) 2856 ––>
If this ever had a thread of it's own I can't find it.
This is one of the few Star Trek ships I've done. It's Federation, but not Starfleet. It's a colonial support hospital ship that's newer than the Antares-type ships, but older than the Constitution class. Over it's life it's undergone two major refits, and I thought I'd show all three versions.
The bottom nacelle is the original 'factory' version. The middle one is my somewhat newer original version. The top one is from the last refit.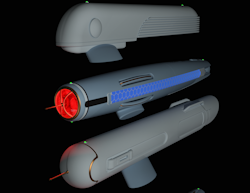 Tagged: