I was sick most of last week and I've been stressed out, in general suffering a spike in my depression through my drugs, and feeling like garbage, which means I go rooting around my hard drive and old CDs looking for things I either didn't finish, or I just wanted to play around with.
It also means I end up looking for low stress things to work on where I don't have to think of things like an Engineer (cause I'm absolutely NOT) but can go a bit more fantastical.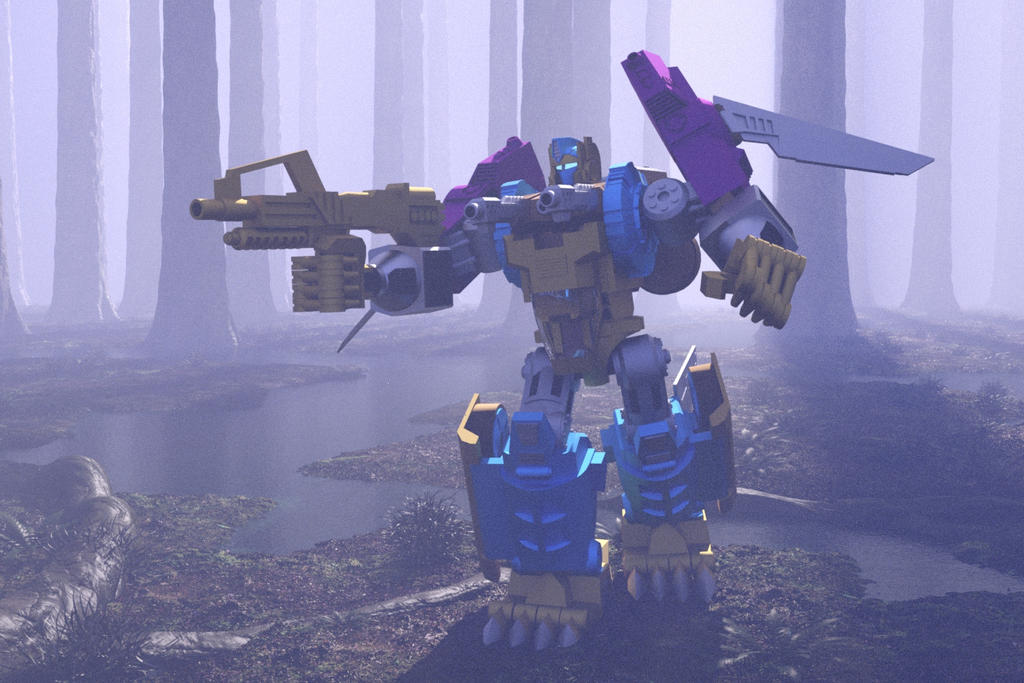 Dusted off this 15 year old fossil from the remnants of a backup file on one of my ancient CDs. Then I went in and imported it in DAZ, gave him fresh materials, dropped him in the t-rex forest and let it 'bake' overnight.
Definitely one of the better models I found in my little archive, it could still use a refresh, but I just wanted to see him in action again for old times sake.
Optimal Optimus Built in TrueSpace 3.2
Rendered in DAZ Studio 4.10 with iRay
But wait, there's more!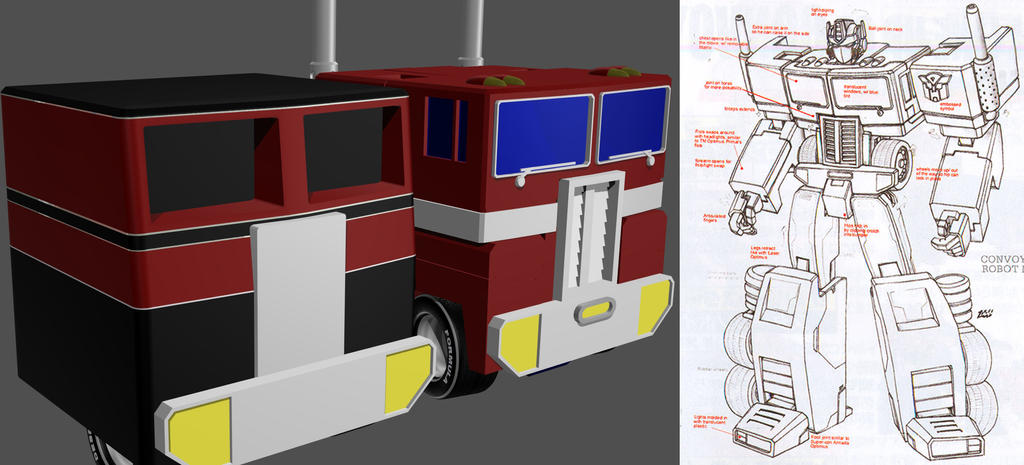 So, still not feeling the greatest, so I started futzing with an old mesh and well, you know me.
I hate seeing this mesh not done, but my twitchy brain wasn't going to let the 'toy' version go, especially after I transformed what I'd built in robot mode into vehicle mode and realized I could do so much better at this point. It has been 15 years y'all.
So after a few hour deep dive into images of older Freightliner Overcab trucks, I settled on a kind of amalgamation for the vehicle mode and decided to keep the original Generation 2 color scheme for Prime, but bring that more into the cab, and in this case, also into his robot mode as well. The cab overall has been redone. I'm not doing an interior at this point, but I'm cutting it up with the idea of having an interior maybe down the road. That's going to be a bit more difficult with the robot bits behind them though and the Matrix when his chest opens up.
Front windows are cut, settled on a new grill shape and I'm working out the pattern for the grill which is going to match the Freightliner more which means Prime is going to have some more trucky bits on him than before.
Open to ideas for the trucking company and ODOT information to have stenciled on Prime's doors
Built in TrueSpace 3.2
Original Masterpiece Prime Design by Don Figueroa
You didn't think I was done at this point did you??? I was still sick and stressed out and didn't even want to contemplate future human or alien dwellings in the Star Trek universe, so Optimus it is.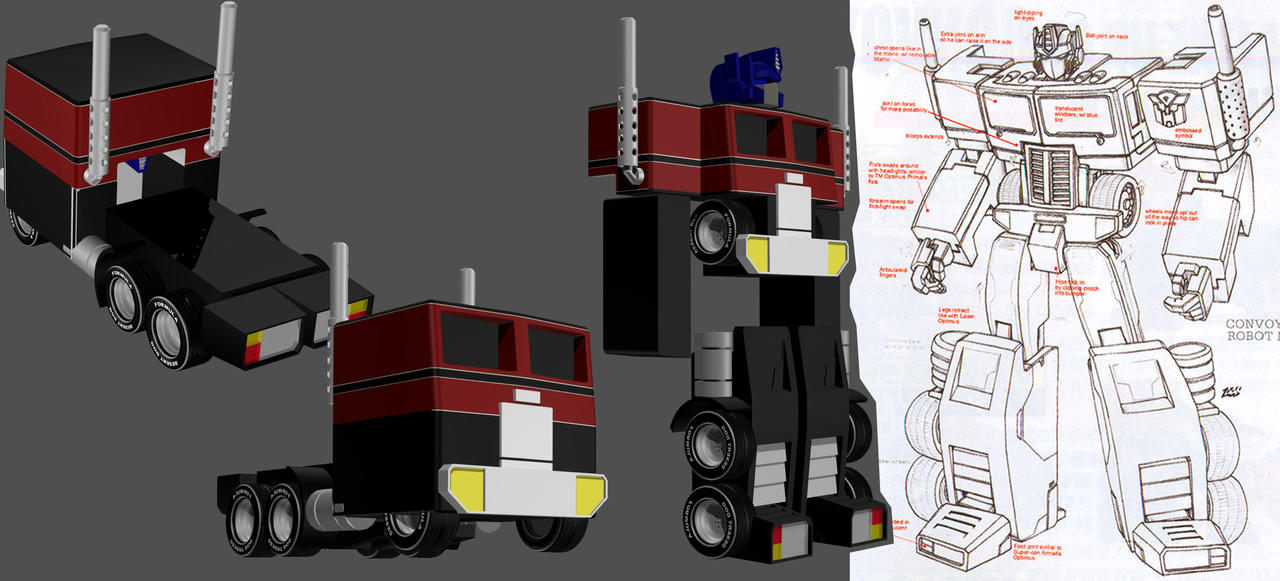 While I'm nowhere near done detailing the Optimus Freightliner, I did need to make sure that the basics were covered so I carved up all the general shapes from the base cab and assembled a very rough robot mode.
He's missing some of the classic striping as it got moved around a bit, and I'm thinking his head is going to have to be black and not blue to match the rest of his body, but so far I'm not completely unsatisfied with him. I am going to remodel the head. Wow that thing is chunky. I carved out the 'cavity' in the back part of the cab (this gets covered up all the time with the steel reinforced back plates on these old cabover designs) where there was access tubes, power lines, air lines, etc. I'm thinking I won't go that involved with it, but the big engine block is probably going to become a large customized shotgun.
I'd originally planned to model out the guns from the Gen 2 toy, but, eh. I am going to make his trailer a reefer (refrigerated trailer for those not in trucking) and the reefer unit is going to become that flight jetpack that was his voice box in the toy. Granted this also means modeling out a 53 ft. reefer trailer, but hey, it's what I do for fun.
So, Vehicle mode checklist:
New front rims
Front wheel wells and trim
Windshield and wipers
Driver and passenger doors
More road friendly bumper with turn signals
Oregon license plates
Thin out his feet and fix the shape
New smokestacks that are more accurate to the late 70's/early 80's Freightliner
Rounded headlights and mounts
Roof lights and mounts
Roof Horns?
More accuracte gas tanks and strapping
Handrails and rear view mirrors on the cab
cut in the steps
Adjustments to the back of the legs to look more like the beams on a cabover
Make the lower legs thinner to better match the cab width
Model in the Fifth Wheel and mounts to that it can be split with the legs.
Built in TrueSpace 3.2
Original Masterpiece Optimus Prime design by Don Figueroa