Since we couldn't make too much headway on that starship of ours over
here
, we decided to continue one of our many older project types...
('3D characters in sketchup.
We have, over the past couple of years, made a fair number of them, though most have not been uploaded anywhere.
A couple of them can be found
here
and
here
, but rather than to stick each new project in a new thread that we'll loose track of where is fairly quickly, we'll go over to having a single thread for such characters... This one.
Anyways... the current project is a winged female Elderling by the name "Thymara".
An Elderling is a sort of creature that appears in the "Realm of the Elderlings" books by Robin Hobb. They are originally humans, but because of close association with dragons, they have slowly started changing to look somewhat more like dragons.
Such humans generally start grow scales that slowly replace their skin, they nails become claws, and all their limbs become proportionally longer. Certain Elderlings also grow other draconic attributes, though that is not as common.
Anyways... The character we are currently working on is in her late teens, and is meant to have fully changed. Since not all the books have been released yet, some of the traits are uncertain and may prove wrong.
On almost all of our 3D models of humanoids we've used base humans made by another author, known over in the sketchup 3D warehouse as calcm1.
In our first few (unpublished) models, we generally kept the body as it was, only making clothes that were mostly painted on the body and changing textures. Some minor details on the bodies were changed, but on a whole, they were almost shaped like the source mesh.
Our next level of modeling was taking apart other human models and mixing them together to make new humans. One of our last projects (linked higher up here), involved parts from some 3 different main models, as well as adding in new parts we had no source material for, like the tail in the model mentioned just now. As time passed, we started making less painted clothes and more actual clothes that were separate from the bodies. These take considerably more time to draw, since they need to fit the body, yet not touch.
The current project combines all of those techniques.
The source humanoid is from two different humans, and each has been modified significantly to fit our needs. The arms have been repositioned, head replaced, back reshaped and many other changes.
The back was reshaped to provide the necessary support for wings. Where a human back is fairly flat, this character has a significantly thicker back, especially near the mid to upper spine. This thickness accounts for the modified skeleton and the added flight musculature.
Because of a significant weakness in design on sketchup all such changes have to be done one piece at a time; be that piece a point, line or a face. The lack of a "skeleton" to the models prevents the option of merely shifting the arm out without deforming the faces around the shoulder joint.
The wings were made based on the designs dug up for bat wings. They are sized accordingly to what would most likely be able to support a humanoid in flight. In other words, fairly large. As of now, the ratio between height and wingspan is at about 143:320 when the wings are fully extended.
The clothes are drawn outside the body at varied distances, but are not even close to done yet. The shirt will be made from some roughly woven fibers, possibly worn ragged on the edges. We are considering, when done, to add in some patched sections, but we have yet to decide on that. The shirt will also have short sleeves, but we have not decided how short.
The leggings will likewise be worn slightly ragged, and will only go down to slightly below her knees. There will be no shoes, since the feet are fully scaled and are therefore quite resilient to wear and tear. Her feet and hands will also be equipped with (black) claws that are beneficial to climbing trees.
Her eyes are a pale blue, and are meant to glow slightly and the pupils have been made vaguely oval, somewhat like reptiles often have, but not quite as pronounced.
Here is a series of pictures that show current progress: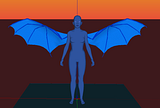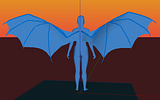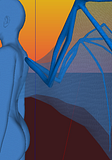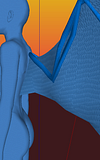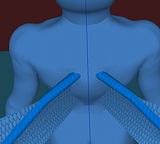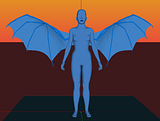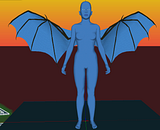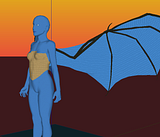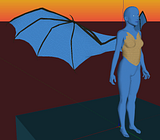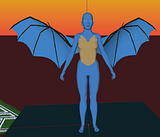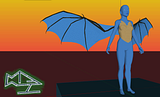 Any comments, questions or such?